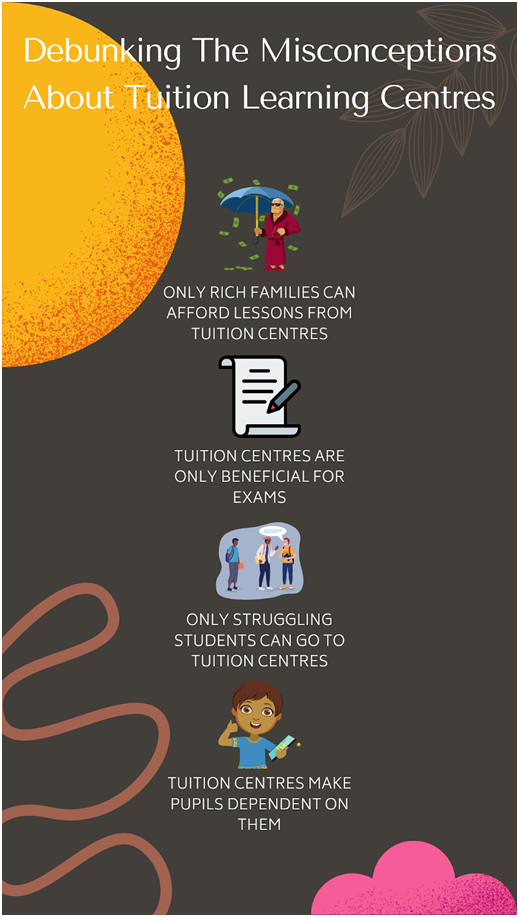 Myths and misconceptions surround all establishments and institutions across various industries—including educational facilities like tuition learning centres. These mistaken beliefs can affect the decision of parents like you when thinking about hiring a tutor for their children. These misinterpretations prevent you from providing your kid's much needed academic guidance and assistance.
To help you see the remarkable benefits that a learning centre in Singapore can let your child experience, here are the most common misconceptions about them:
Only Rich Families Can Afford Lessons From Tuition Centres
If you asked your friends and family for tuition centre options in areas like PasirRis, someone could have told you to avoid tutorial facilities since they charge hefty fees for their programmes. This opinion may sound convincing, but tuition institutions do not ask for expensive amounts in exchange for their services.
Tuition Centres Are Only Beneficial For Exams
Some mums and dads think they should only send their children to a learning centre during the exam period. While it is true that tutors can prepare your little one for tests and other academic activities, their lessons are beneficial throughout the school year.
Only Struggling Students Can Go To Tuition Centres
Believe it or not, even the brightest pupil from the top academy in the state can use a few tutorial lessons. If you go to a tuition centre in Tampines or anywhere else in Singapore, you will see that both struggling and ace students attend their classes to broaden their knowledge.
Tuition Centres Make Pupils Dependent On Them
Contrary to popular belief, lessons taught in a tuition centre teaches young learners about the importance of self-determination and time management. Instructors encourage them to answer their school activities and understand their classes on their own—the only thing they can do is guide and assist them through the process.
Now that you debunked the top myths about tuition learning centres, nothing will stop you from enrolling your kid at The Junior Learners Learning Centre! Visit their website below to learn more about their programmes.